Most of your wedding planning will no doubt be going into the ceremony and the wedding breakfast. But after you have said "I do", focus (pun intended) will turn to your formal wedding photos. Have you thought about how you will keep your guests happy and entertained during this temporary down time? With 20 years' experience in providing wedding entertainment across the UK – from Dorset to Manchester to Inverness – Alive Network knows just how to keep your guests happy while you are temporarily absent, so you can really relax and enjoy your newlywed photoshoot together. Clare from Alive Network lets us in on 10 of their not-so-secret weapons for a flawless drinks reception.
So, you did it! The vows are over and it's celebration time. Once you've enjoyed some well-earned post-ceremony bubbles, it's time for you to strike a pose for the cameras. You're the main event and, while everyone wants to bask in your newlywed glow, it's likely you'll need some you-time away from your guests to capture those all-important bride and groom portraits. Time to deploy some diversion tactics so your guests don't miss you. The trick is to keep the excitement going after your ceremony by setting the perfect scene for some seamless socialising. Think drinks reception entertainment that will captivate your guests and get them mingling while you're off trying to look natural in a field channelling your inner supermodel. Think about the ideal atmosphere you want to create, that reflects you and your day, be it elegant and classic, laid back and rustic, alternative and quirky…something that's completely you. Here are our top suggestions for music and entertainment to *clink* your glasses to:
Traditional Drinks Reception Entertainment Ideas:
Classical - string quartet
Classical string quartets are perfect for a sophisticated feel at your drinks reception. They're flexible too, performing a range of musical styles and easily turning their bows from classical symphonies to Bitter Sweet Symphony, jazz, film themes, and modern chart hits. You can tailor their set or ask them to learn a new song to really wow your guests… The Little Mermaid soundtrack on strings anyone?
We love: The Lancashire String Quartet
Wedding Guitarists
Guitarists bring a warm, relaxed feel to your wedding day, with many also providing vocal accompaniment. Most will also bring a cool and contemporary repertoire, covering The Beatles to Bruno Mars, with some specialising in classical, Spanish and jazz too. Acoustic or fully amped-up, they can easily serenade your guests outdoors, taking minimum time to setup, leaving maximum time for laidback reception vibes.
We love: Kelly Barnes
Jazz Bands
Jazz bands will vary in their lineup, range of instruments and style of jazz they perform, so choose a style of band that suits your wedding mood. From refined background music, to the fun and glitz of a swinging jazz band, there'll be something for everyone as the gin flows!
We love: The Quartones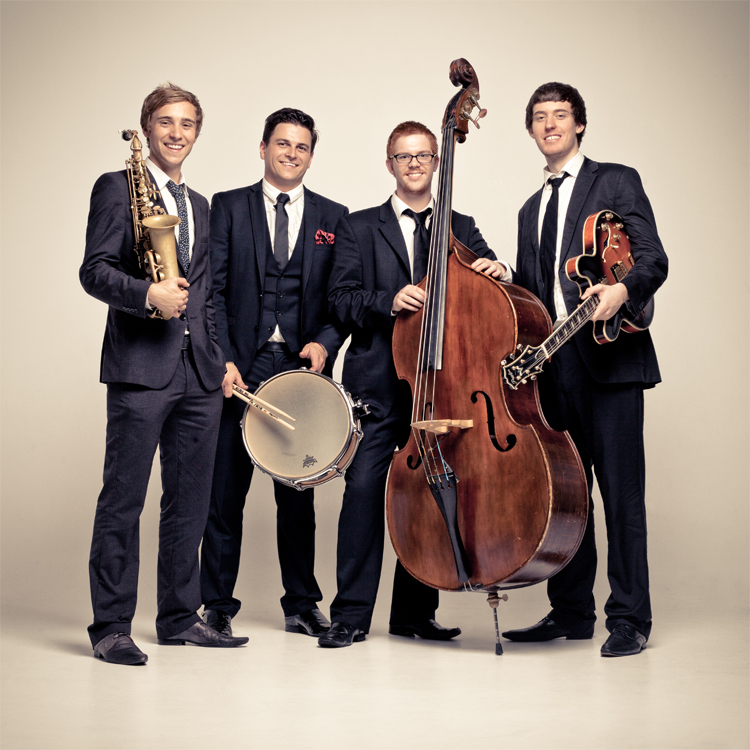 Singer-Pianists
Usually performing solo, singer-pianists are experts in delighting guests with a versatile array of music, from classical masterpieces, chilled jazz, or showtunes, to swing, rock, soul and modern chart tracks. Just make it the music you love.
We love: Lily Davies
Mix and Mingle Entertainers: Caricaturists & Magicians
If you're inviting a range of guests who've never met before, choosing an artist to break the ice is the perfect way to get them warmed up for a day to remember. Caricaturists can create a lovely personal keepsake for family and friends to take away and treasure, while magicians will perform to mixed groups, providing those jaw-dropping moments to get the conversation flowing. FOMO? Fear not… your entertainers will seek you out once your newlywed photos are complete, so you can join in on all the fun.
We love: Sam the Caricaturist and Keven Starl
Alternative Drinks Reception Entertainment Ideas:
Gospel Choir
You don't have to be a Royal to have your own gospel choir. And they pack a real punch. Whether you want a religious or non-religious set, a gospel choir will deliver a goosebump-worthy performance. The perfect backdrop to elevate your drinks reception to a whole new level. And if it's good enough for Harry and Meghan…
We love: UK Gospel Choir
Pop-Up Gin & Cocktail Bars
Venture outside the norm with a pop-up gin or cocktail bar. Whether you want personalised cocktails for your day and a bespoke menu, or a choice of craft ales and classic mouth-watering cocktails, you can tailor your pop-up bar's stock to your exact thirst requirements. Cheers to that!
We love: The Car Bar
Circus and Fire Performers
Razzle dazzle 'em with some eye-catching entertainment as soon as guests walk in, with acrobats, jugglers, aerial and fire performers. Or why not try a bit of audience participation with a fun circus workshop, where you and your guests can learn new tricks – just remember to put your drink down first!
We love: Katy Sea and Fun Circus Workshop
Roaming Bands
The days are gone when a band needed to be stuck to a stage. Roaming bands will wander around your drinks reception, serenading your guests as they go. They're often acoustic, come in a range of musical styles, and take requests, performing tracks off-the-cuff, and brilliantly mingling with guests. Great if you want to get the singalong started early.
We love: Holly and the Heels
Unique and Unusual Musicians e.g. Ukulele Duos
There's a wide range of quirky specialist entertainers out there, from brass bands that play Beyoncé, to Gramophone DJs. As a vintage lover, one of my faves is a ukulele duo. Cool, unique, and a great option for smaller budgets, they'll perform modern tracks in a retro style, meaning maximum fun for all, from Formby to K-Perry fans.
We love: Nancy and Pearl